I love the start of a new month. For a goal-setting junkie, new months feel like New Year's is happening 12 times a year.
It's easy to look forward to the next month, especially since October always seems to have a lot of potential – cooler weather, Halloween, fall baking, and…again this year… the Cubs being in the playoffs!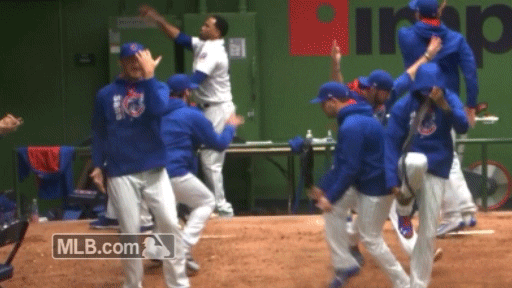 But how often do you look back on the month that just passed? If you're like me, you might be eager to keep moving forward. I'm always looking to what is next.
But why not sit back for a moment and celebrate September for all that it was? Who knows, maybe monthly reflections are what we need to make time feel like it's not moving so fast.
Introducing…Michelle's Month posts!
For the sake of Naturally Ever After, these monthly reflection posts will cover the 3 main categories of the blog: food, nature and life. Here are the memorable moments of each and a few lessons I picked up along the way.
Loving Food
September was certainly a foodie month! I shared a favorite recipe – these satisfying little 4-Ingredient Brownies – and a new recipe for a Natural Pumpkin Spice Latte. Those bad boys are a game-changer!




But the most fun I had in the kitchen this month was with Kyle and about 10 other people. Kyle's mom gave us a gift certificate to a couple's cooking class at Sweet Basil up in Scottsdale for our anniversary, and my goodness, it was so fun! We love cooking and this class gave us more ideas to get creative with our typical weeknight meals.
Loving Nature
September brought new hikes, new scenery and even a close encounter with a rattlesnake for my adventurous hubby. Over Labor Day weekend, we took a trip up to Sedona and did some easy hikes with the pup. Sedona is so gorgeous. Whether you're on a mountain or just driving through, the scenery and feel of the town are breathtaking.
And they have good wine.
Loving Life
From celebrating milestones to trying new things, September had quite a few awesome life moments.
Our first anniversary
September 3rd marked one year since we said "I do" back in Iowa. Whoever would have thought we'd be celebrating in Sedona, only a couple hours from our new home in San Tan Valley, AZ. Kyle seemed to think I expected something more epic for our first anniversary, but I think he needs to check his standards.
What isn't epic about this life?
Also, I think it's "epic" in itself that we like each other so much to be out here in this new land all on our own. All we have is each other (and Yoshi), and that's enough to make both of us happy. Who needs epic when the everyday is fulfilling?
Family time
My sweet mother flew me back to Illinois for some quality time with the Chalkeys. I lived far away from my parents before when we were in Iowa, but when it takes a plane ride to see them now it sure makes the time feel more precious.
It's funny – some family weekends are your typical, good-natured visits, and others take you back to every silly and weird thing that makes your family your family. For example, this September weekend with my parents included all of us being booed off by the Glee PlayStation karaoke game in the wildness of the family living room, knowing my dad was pulling up because N'Sync's "Bye Bye Bye" was blaring through the neighborhood, and getting lost a few times on back roads with my mom. I could point out that she was the one driving, but it really makes no difference – I'd easily get us lost on a drive we've both done dozens of times too.
It also wouldn't be a Chalkey family dinner without my dad declaring he's going to give up gluten…starting Monday. (The man was diagnosed with Celiac Disease 7 years ago and has never managed to do the ONE thing that is needed to manage it.)
For better or worse, some things never change with your family. These quirky things can be everything you need to feel at home – or when it comes to health habits – frustrate the heck out of you. I've learned that the best I can do is offer my support however Dad may need it. He still needs someone to root him on, and when it comes to health, you can't fully give up on someone.
I also squeezed in time with my sweet, pregnant friend Elise and the Barichello side of the fam, including my wittle sweet nephew Noah. I got to see Kyle's sister Maddie get ready for her first homecoming dance. Being around her and her friends while they suffered through 1000 pictures really took me back.
Meeting people
This has been a big month for meetups, groups and getting out of my comfort zone, and it's been awesome. I tried a new networking group, hung out with girls at a coffee meetup and a happy hour meetup, joined a book club, and attended Toastmasters for the first time!
I've also had some one-on-one coffee dates with other girl bosses. I feel like I'm finding my groove here and meeting all kinds of people.
A Few Things I'm Learning
Confidence and authenticity
Putting yourself out there can be scary. I've always been shy in groups, and I'm always wanting to improve my confidence so I can talk to new people easier.
Something that is really helping me cultivate confidence when meeting new people or going to these meetups is the idea of being true to myself. Brene Brown's book The Gifts of Imperfection
has helped me see the truth in this. On the topic of authenticity, Brown says:
Fitting in is about assessing a situation and becoming who you need to be to be accepted. Belonging, on the other hand, doesn't require us to change who we are; it requires us to be who we are.
Confidence, then, comes from fully accepting and embracing who you are and not being ashamed to express it. If you're accepted by the group, great – you've found your people. If you're not accepted by the group, great – move on and find your people elsewhere.
I've thought about this every time I go meet with someone individually or attend a new meetup. Be yourself, don't be afraid to be yourself, and don't try to change yourself to match the people in the group.
Having nothing to do vs. getting to do nothing
Since Kyle and I get up early and spend most of our day hiking on the weekends, our Saturday nights tend to be kind of blah. We hit this lull time in the mid-afternoon where we feel like we should be out doing something, but we're pretty tired from the hike and we really don't want to spend any money. We get antsy and indecisive, and this is when we really feel alone in Arizona. Back in Des Moines, we'd call up another couple and go drink lots of wine with them.
Meanwhile, other couples our age are at home on a Saturday afternoon with kids running around the house, wondering what the heck they'd do if they had a quiet moment.
I'm not all that sure what to make of this, but I find it funny that on both sides of the spectrum people can feel this uneasiness about what you're doing, what you think you should be doing and what you actually feel like doing with your time. The baby fever hasn't quite hit our household yet, so I think this is a lesson to accept the quietness for now. There might come a time when we long for it!
Liking spending time with myself
Do you feel insecure when you're hanging out on your own? Do you try to fill your time with nonsense to avoid being alone? What does alone time feel like for you?
This idea of alone time fascinates me because I always look forward to it when I know I'm going to have some time to myself, but when it comes, it's hard for me to really enjoy it. I look forward to it thinking, yes, finally I'm going to watch Season 3 of Fuller House or the Disney Moana movie cause my hubby would never watch those with me and I'll paint my nails and make a face mask and bake cupcakes and do all of the girly things.
But instead, I often wind up spinning my wheels and feeling sorry for myself because I'm all alone. I miss Kyle.
That's what typically happens for me, but when Kyle headed to Vegas this past weekend (without me, jerk), I was determined to enjoy hanging out with Michelle (yep, that's me). I had a mission to get some extra work done but also get a bottle of Prosecco, because I love it and Kyle hates white wine. And let me tell you, I had fun self-dates all weekend long!
Popular Posts in September
In case you missed out, here are the top-read posts of the month:
Much of my content lately has centered around anti-dieting, embracing the healthy lifestyle and eating disorder recovery thoughts. Stay with me through October, when I'll be diving deeper into natural remedies like herbs and essential oils to help you enhance your wellness, moods and confidence!
How was your September?
What new foods did you try this month? What big things did you learn? What are some great moments you had? Share your thoughts by leaving a comment!
Join Me on a Naturally Ever After Lifestyle
Learn to nourish the mind, body and heart naturally! I'll email you only once a month with my favorite tips, tricks and inspiration.